Events
General Body Meeting:
We will be having a meeting on Wednesday, April 5, at 5pm in SEO 1325. Our guest speaker will be Dave Maclaughlin, of the speaker company
Genelec
, who will give a talk on speaker technology and how to improve the sound of any system.
After that, we will have elections for AES officers for next year (president, vice president, treasurer). Talk to president Steve Leib if you have any questions or are interested in being an officer and want more information.
Past Events
General Body Meeting:
"An Introduction to Max and Audio Synthesis" Presentation by our advisor, Dr. Anil Çamci
Thursday, February 2, 5pm SEO 1000
About MaxMSP:
Max is a graphical programming language designed specifically for music and multimedia. It is a very powerful, flexible, and fun environment for doing audio work. This presentation will cover the basics of working with Max.
About Anil Çamci:
Dr. Anıl Çamcı is a multimedia artist, who is currently a postdoctoral research associate at the University of Illinois at Chicago's Electronic Visualization Laboratory. Prior to this appointment, he worked as a faculty member of the Istanbul Technical University, Center for Advanced Studies in Music, where he founded Turkey's first Sonic Arts program in 2012. He completed his
PhD
at Leiden University in affiliation with the Institute of Sonology in The Hague, and the Delft University of Technology. He holds a degree in Multimedia Engineering from the Media Arts and Technology Department at the University of California, Santa Barbara. His research investigates tools and concepts for multimodal world making using a variety of media ranging from electronic music to virtual reality. Çamcı's work has been presented throughout the world in journals, concerts, exhibitions, and conferences. He has been granted several awards and scholarships, including the Audio Engineering Society Fellowship, and the ACM CHI Artist Grant.
Bring your AES member ID if you have one- we need an official count of members at this meeting.
For Membership Information:
http://www.aes.org/membership/
Tour of SHURE's Niles Facility, Nov 10, 2016 7pm
AES at UIC will be touring
SHURE
's facility on Thursday, Nov 10, at 7pm. Contact us at
aesatuic@gmail.com
if you are interested in coming. We will be trying to arrange transportation from UIC's campus to SHURE's location in Niles, IL.
Bryan Pardo, Head of Northwestern University's Interactive Audio Lab, October 27, 5pm, SEO 1000
Title:
Rethinking Audio Production Interfaces
Abstract:
Potential users of audio production software, such as audio equalizers, may be discouraged by the complexity of the interface and a lack of clear affordances in typical interfaces. We seek to simplify interfaces for task such as audio production (e.g. mastering a music album with
ProTools
), audio tools (e.g. equalizers) and related consumer devices (e.g. hearing aids). Our approach is to use an evaluative paradigm ("I like this sound better than that sound") and the use of descriptive language (e.g. "Make the violin sound 'warmer.'"). To build interfaces that use descriptive language, a system must be able to tell whether the stated goal is appropriate for the selected tool (e.g. making the violin "warmer" with a panning tool does not make sense). If the goal is appropriate for the tool, it must know what actions need to be taken (e.g. add some reverberation). Further, the tool should not impose a vocabulary on users, but rather understand the vocabulary users prefer. In this talk, Prof. Pardo describes recent work in evaluative interfaces (
SynthAssist
), crowdsourcing a vocabulary for language-based production tools (
SocialEQ
) and language-based interfaces for production tools (Reverbalize).
Bio:
Bryan Pardo, head of the Northwestern University Interactive Audio Lab, is an associate professor in the Northwestern University Department of Electrical Engineering and Computer Science. Prof. Pardo received a M. Mus. in Jazz Studies in 2001 and a Ph.D. in Computer Science in 2005, both from the University of Michigan. He has authored over 90 peer-reviewed publications. He has developed speech analysis software for the Speech and Hearing department of the Ohio State University, statistical software for SPSS and worked as a machine learning researcher for General Dynamics. While finishing his doctorate, he taught in the Music Department of Madonna University. When he's not programming, writing or teaching, he performs throughout the United States on saxophone and clarinet at venues such as Albion College, the Chicago Cultural Center, the Detroit Concert of Colors, Bloomington Indiana's Lotus Festival and Tucson's Rialto Theatre.
General Body Meeting, Oct 11, 2016 @ 5pm
Our first meeting of the year is Tuesday, Oct 11, at 5 pm in SEO 1325. Come to find out more about AES, and connect with other students who are interested in audio!
Proximity Sensing Microphone System/Plasma Sound Generation[November 4, 2014 @ 5:00PM]
Steve will discuss the process of creating an original, interdisciplinary design as well as demo a home-made plasma speaker. He will be speaking on his revered senior design project he completed while at University of Miami. He will also demo a plasma speaker he made around this time. Pizza and other refreshments are on us!
When:
Tuesday, November 4th, 2014 @ 5PM - 6PM
Location:
ERF Second Floor, Room 2068 (Cyber Commons in the Electronic Visualization Lab)
Please remember to RSVP to
aesatuic@gmail.com
.
For more information, please email
aesatuic@gmail.com
.
Workshop in Hardware Hacking with Nic Collins: Build your own Oscillators and Tremolo Circuits[September 2, 2014 @ 5:00PM]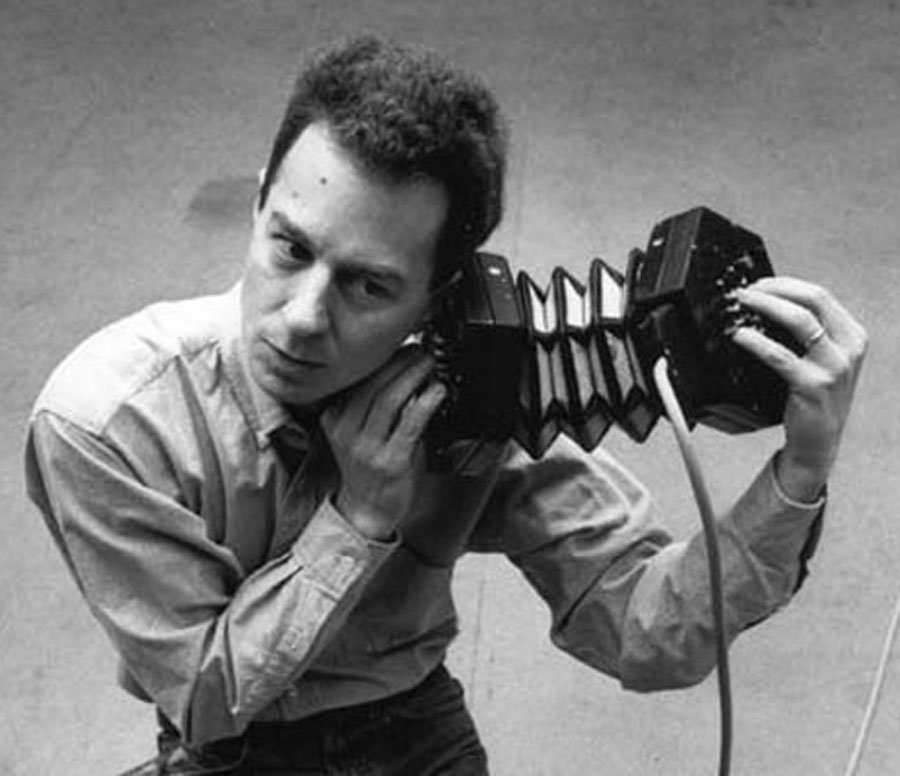 Nic Collins is a renown composer, professor, and electronic tinkerer. He will be leading this interactive presentation as we build and expand on 3 basic oscillator circuits. Attendees will be breadboarding audio circuits in this interactive session. All speakers, batteries, and circuit components provided. Please bring your own laptop, headphones, and music player. Limited to 20 spots. Please send questions and/or RSVP to aesatuic@gmail.com
When:
Tuesday, September 2nd, 2014 @ 5PM - 7PM
Location:
ERF Second Floor, Room 2068 (Cyber Commons in the Electronic Visualization Lab)
Please remember to RSVP to
aesatuic@gmail.com
.
For more information, please email
aesatuic@gmail.com
.
AES Officers Elections[April 23, 2014 @ 5:00PM]
Quickly before the presentation with Michelle Daniels, we will be deciding who will be running for next year's AES Officer positions. The positions are:
President, Vice-President, Treasurer, and Webmaster
.
When:
Wednesday, April 23th, 2014 @ 5:15PM
Location:
SEO 236 For more information, please email
aesatuic@gmail.com
.
Michelle Daniels speaks to AES[April 23, 2014 @ 5:15PM]
This month, Michelle Daniels, graduate researcher from University Of California, San Diego will be presenting on an
"Introduction to Audio Networking and an Open Source Dynamic Networked Audio System"
This talk will give an introduction to the world of audio networking, providing an overview of how digital audio samples and control data can be transported across a network and introducing commonly-used network-based protocols such as the Real-Time Transport Protocol (RTP) and Open Sound Control (OSC). In the process, we will distinguish between audio networking systems using OSI Layers 2 and 3 and discuss the use of UDP vs. TCP for transport in Layer 3 systems. Some applications of audio networks will be presented with a focus on enabling remote collaboration over wide-area networks. The talk will culminate with a discussion of the speaker's award-winning open-source software for dynamic audio networking and its use in remote collaboration environments.
When:
Wednesday, April 23th, 2014 @ 5:15PM
Location:
SEO 236 RSVP at
aesatuic@gmail.com
or aesatuic.freeforums.org
Emily Wigley speaks to AES[March 5, 2014 @ 5PM]
This month, Emily Wigley from Knowles will be giving a presentation on "Microelectroechanical systems (MEMS) Microphones in Hearing Instrument Applications". Knowles is a company best known for its miniature audio products. They have been producing innovative hearing aid components, speakers, and other parts for the past 65 years.
When:
Wednesday, March 5th, 2014 @ 5PM
Location:
SEL 4055 RSVP at
aesatuic@gmail.com
or aesatuic.freeforums.org Pizza and Refreshments will be provided.
Chicago Recording Company Tour Trip[February 13, 2014 @ 6:30PM]
Our first meeting this semester is a tour of the world-renown Chicago Recording Company. This will be on Thursday, February 13 at 6:30PM. We will meet in front of the Daley library at 5:30 and take the 157 bus to 232 E Ohio, or you can meet us there.
Please, RSVP either via email or this link:
http://aesatuic.freeforums.org/chicago-recording-company-tour-feb-13-t35.html
so we can let the staff know how many are coming.
The Chicago Recording Company (CRC) is a recording studio in Chicago, Illinois, founded in 1975.
Boasting twelve studios, CRC is the largest recording company in the midwest, and the largest independent studio in the country.
Dozens of notable artists have recorded at the company's music studios. Notably people who recorded at CRC include: Michael Jackson, Coldplay, Sting, Timbaland, Rihanna, Justin Timberlake, Celine Dion, Kanye West, Red Hot Chili Peppers, Linkin Park, and more!
When:
Thursday,
February 13, 2014
at
6:30PM
Where:
Meet in front of the
Daley Library
at
5:30PM
to take the 157 bus.
Our destination address is
232 E. Ohio St., Chicago, Illinois 60611
.
This event has passed. Many of us enjoyed the trip to CRC. Thank you for everyone who came, and special thanks to the Chicago Recording Company for allowing
AES@UIC
to tour their facilities!
Chicago AES Section Meeting[January 29, 2014 @ 6:30PM]
The next Chicago AES Section Meeting will be on January 29, 2014 @ 7:30PM. The presentation is presented by Jon Boley,
PhD
, who has just over a decade of experience working as an engineer & psychoacoustician. The meeting will take place at Shure Incorporated in Niles, IL.
About the Presentation:
The phase of a signal can be tremendously important in some situations. In other situations, the phase seems to have no meaningful effect whatsoever. We will discuss when phase is perceptually important, and when it isn't. We will clear up some basic concepts, bust some myths, and hopefully gain some new insights. The presentation will include summaries of some recent psychoacoustics & neuroscience research, and of course some audio demos.
AES@UIC
will plan to meet at the Daley library on east campus and leave around 6:30PM. If you are interested in attending, please post to this thread:
http://aesatuic.freeforums.org/first-chicago-chapter-meeting-t34.html
When:
Wednesday,
January 29, 2014
at
7:30PM
Where:
Shure Incorporated,
5800 W. Touhy Ave, Niles, IL 60714
EVL Trip [November 11, 2013 @ 11AM - 12PM]
We were presented with the unique opportunity to check out UIC's EVL
http://www.evl.uic.edu/
tomorrow 11-noon in relation to the possibility of getting involved with an AES member at UCSD. Hope to see you there! The EVL is located in the Electronic Research Facilities; The building connected and directly south of the Science and Engineering Laboratories East(SELE).
Dean Steve Everett Speaks to AES [November 6, 2013 @ 5:00PM]
As the recently announced Dean of the College of Architecture, Design and the Arts at UIC, Steve Everett has a very diverse array of interests and experiences. His compositions have won various awards and have been selected to be featured in various music festivals. His focus includes electronic music, world music, and the philosophy of technology in art. UIC College of Architecture, Design and the Arts is a world reknown program and Dean Everett's involvement will only bring its potential to new heights. We hope you can join us to hear him speak to another new comer to UIC, AES. See some of his works here:
http://vimeo.com/user764743/videos
When:
Wednesday, November 6, 2013 @ 5:00PM
Location:
SEO 1000
A facility tour of Shure Inc.[October 2, 2013 @ 4:30PM]
Shure Inc. is often regarded as the most reliable audio electronics company and a multitude of their products are known to be industry standards. AES @ UIC has been fortunate enough to get the opportunity to visit Shure's headquarters where so much innovation happens. The tour will focus on a day in the life of an engineer at Shure and should be a real pleasure. Through the use of the blue line and bus 85A, the CTA does transport to Niles - but carpooling may be a valid option as well, depending on the amount of members looking to go. This should be a great experience and we hope you plan to join us!
Requirements:
All attendees are required to bring a Photo ID to be admitted into Shure Inc.'s facilities. We recommend a state issued photo id.
When:
Wednesday, October 2 2013, 4:30 PM to 7:00 PM
Location:
Shure Inc., Niles (Please note that this is an offcampus event, please make transportation arrangements as necessary.)
Address:
5800 W Touhy Ave, Niles, Illinois 60714