Past Events
Workshop in Hardware Hacking with Nic Collins: Build your own Oscillators and Tremolo Circuits[September 2, 2014 @ 5:00PM]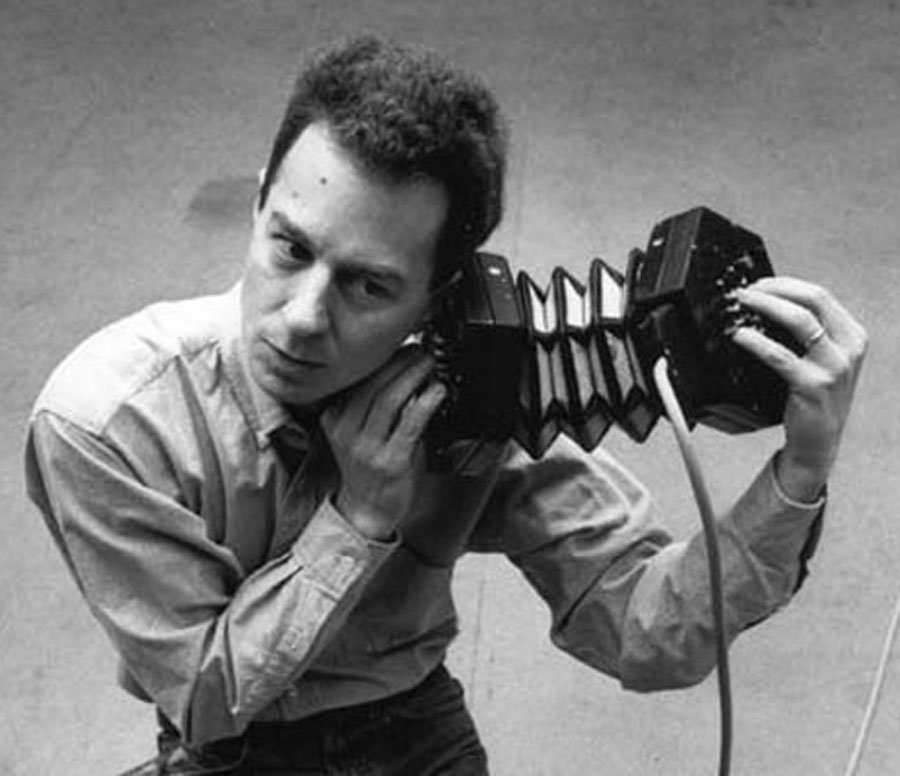 Nic Collins is a renown composer, professor, and electronic tinkerer. He will be leading this interactive presentation as we build and expand on 3 basic oscillator circuits. Attendees will be breadboarding audio circuits in this interactive session. All speakers, batteries, and circuit components provided. Please bring your own laptop, headphones, and music player. Limited to 20 spots. Please send questions and/or RSVP to aesatuic@gmail.com
When:
Tuesday, September 2nd, 2014 @ 5PM - 7PM
Location:
ERF Second Floor, Room 2068 (Cyber Commons in the Electronic Visualization Lab)
Please remember to RSVP to aesatuic@gmail.com.
For more information, please email
aesatuic@gmail.com
.
AES Officers Elections[April 23, 2014 @ 5:00PM]
Quickly before the presentation with Michelle Daniels, we will be deciding who will be running for next year's AES Officer positions. The positions are:
President, Vice-President, Treasurer, and Webmaster
.
When:
Wednesday, April 23th, 2014 @ 5:15PM
Location:
SEO 236 For more information, please email
aesatuic@gmail.com
.
Michelle Daniels speaks to AES[April 23, 2014 @ 5:15PM]
This month, Michelle Daniels, graduate researcher from University Of California, San Diego will be presenting on an
"Introduction to Audio Networking and an Open Source Dynamic Networked Audio System"
This talk will give an introduction to the world of audio networking, providing an overview of how digital audio samples and control data can be transported across a network and introducing commonly-used network-based protocols such as the Real-Time Transport Protocol (RTP) and Open Sound Control (OSC). In the process, we will distinguish between audio networking systems using OSI Layers 2 and 3 and discuss the use of UDP vs. TCP for transport in Layer 3 systems. Some applications of audio networks will be presented with a focus on enabling remote collaboration over wide-area networks. The talk will culminate with a discussion of the speaker's award-winning open-source software for dynamic audio networking and its use in remote collaboration environments.
When:
Wednesday, April 23th, 2014 @ 5:15PM
Location:
SEO 236 RSVP at
aesatuic@gmail.com
or aesatuic.freeforums.org
Emily Wigley speaks to AES[March 5, 2014 @ 5PM]
This month, Emily Wigley from Knowles will be giving a presentation on "Microelectroechanical systems (MEMS) Microphones in Hearing Instrument Applications". Knowles is a company best known for its miniature audio products. They have been producing innovative hearing aid components, speakers, and other parts for the past 65 years.
When:
Wednesday, March 5th, 2014 @ 5PM
Location:
SEL 4055 RSVP at
aesatuic@gmail.com
or aesatuic.freeforums.org Pizza and Refreshments will be provided.
Chicago Recording Company Tour Trip[February 13, 2014 @ 6:30PM]
Our first meeting this semester is a tour of the world-renown Chicago Recording Company. This will be on Thursday, February 13 at 6:30PM. We will meet in front of the Daley library at 5:30 and take the 157 bus to 232 E Ohio, or you can meet us there.
Please, RSVP either via email or this link:
http://aesatuic.freeforums.org/chicago-recording-company-tour-feb-13-t35.html
so we can let the staff know how many are coming.
The Chicago Recording Company (CRC) is a recording studio in Chicago, Illinois, founded in 1975.
Boasting twelve studios, CRC is the largest recording company in the midwest, and the largest independent studio in the country.
Dozens of notable artists have recorded at the company's music studios. Notably people who recorded at CRC include: Michael Jackson, Coldplay, Sting, Timbaland, Rihanna, Justin Timberlake, Celine Dion, Kanye West, Red Hot Chili Peppers, Linkin Park, and more!
When:
Thursday,
February 13, 2014
at
6:30PM
Where:
Meet in front of the
Daley Library
at
5:30PM
to take the 157 bus.
Our destination address is
232 E. Ohio St., Chicago, Illinois 60611
.
This event has passed. Many of us enjoyed the trip to CRC. Thank you for everyone who came, and special thanks to the Chicago Recording Company for allowing AES@UIC to tour their facilities!
Chicago AES Section Meeting[January 29, 2014 @ 6:30PM]
The next Chicago AES Section Meeting will be on January 29, 2014 @ 7:30PM. The presentation is presented by Jon Boley,
PhD
, who has just over a decade of experience working as an engineer & psychoacoustician. The meeting will take place at Shure Incorporated in Niles, IL.
About the Presentation:
The phase of a signal can be tremendously important in some situations. In other situations, the phase seems to have no meaningful effect whatsoever. We will discuss when phase is perceptually important, and when it isn't. We will clear up some basic concepts, bust some myths, and hopefully gain some new insights. The presentation will include summaries of some recent psychoacoustics & neuroscience research, and of course some audio demos.
AES@UIC
will plan to meet at the Daley library on east campus and leave around 6:30PM. If you are interested in attending, please post to this thread:
http://aesatuic.freeforums.org/first-chicago-chapter-meeting-t34.html
When:
Wednesday,
January 29, 2014
at
7:30PM
Where:
Shure Incorporated,
5800 W. Touhy Ave, Niles, IL 60714
EVL Trip [November 11, 2013 @ 11AM - 12PM]
We were presented with the unique opportunity to check out UIC's EVL
http://www.evl.uic.edu/
tomorrow 11-noon in relation to the possibility of getting involved with an AES member at UCSD. Hope to see you there! The EVL is located in the Electronic Research Facilities; The building connected and directly south of the Science and Engineering Laboratories East(SELE).
Dean Steve Everett Speaks to AES [November 6, 2013 @ 5:00PM]
As the recently announced Dean of the College of Architecture, Design and the Arts at UIC, Steve Everett has a very diverse array of interests and experiences. His compositions have won various awards and have been selected to be featured in various music festivals. His focus includes electronic music, world music, and the philosophy of technology in art. UIC College of Architecture, Design and the Arts is a world reknown program and Dean Everett's involvement will only bring its potential to new heights. We hope you can join us to hear him speak to another new comer to UIC, AES. See some of his works here:
http://vimeo.com/user764743/videos
When:
Wednesday, November 6, 2013 @ 5:00PM
Location:
SEO 1000
A facility tour of Shure Inc.[October 2, 2013 @ 4:30PM]
Shure Inc. is often regarded as the most reliable audio electronics company and a multitude of their products are known to be industry standards. AES @ UIC has been fortunate enough to get the opportunity to visit Shure's headquarters where so much innovation happens. The tour will focus on a day in the life of an engineer at Shure and should be a real pleasure. Through the use of the blue line and bus 85A, the CTA does transport to Niles - but carpooling may be a valid option as well, depending on the amount of members looking to go. This should be a great experience and we hope you plan to join us!
Requirements:
All attendees are required to bring a Photo ID to be admitted into Shure Inc.'s facilities. We recommend a state issued photo id.
When:
Wednesday, October 2 2013, 4:30 PM to 7:00 PM
Location:
Shure Inc., Niles (Please note that this is an offcampus event, please make transportation arrangements as necessary.)
Address:
5800 W Touhy Ave, Niles, Illinois 60714